How to Use Your Proxy Service with Chrome and the FoxyProxy Extension
How to Use Your Proxy Service with Chrome and the FoxyProxy Extension
Alert! We do not recommend this extension anymore since it has bugs. Instead, please use GeoShift for Chrome.
Turning it on
Install the FoxyProxy Extension for Chrome.
Click the FoxyProxy icon in the upper-right of the browser and choose Options. This opens the FoxyProxy Options page.

Switch to the Proxy Details tab and select Manual Proxy Configuration. Enter the Host/IP address and port number of the proxy server provided to you at checkout and in your welcome email. Do not check the the SOCKS proxy checkbox. In this screenshot, we've entered "hostname.getfoxyproxy.org" and "59812"

Change FoxyProxy's mode to Use proxy "hostname.getfoxyproxy.org" for all URLs


Use proxy hostname.getfoxyproxy.org for all URLs

The next time Chrome tries to connect to a page you will be prompted enter a username/password. Enter the username and password provided to you after purchase (You do not need to make a purchase to use this browser extension. You can use a proxy server obtained from any source.)

To check that you're using the expected IP address, click here
Turning it off
When you want to turn off the proxy, click the FoxyProxy icon in the Chrome toolbar and select Disable FoxyProxy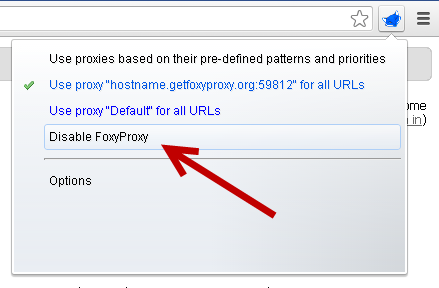 Note About Speed
Proxies can be slower than your direct (non-proxy) internet connection. To optimize your experience, consider using FoxyProxy in patterns mode. It allows you to define which websites load through proxy servers and which do not. With FoxyProxy Plus (Firefox on Windows only), you can also define patterns based on local IP address — not the IP address of the websites you are visiting, but the IP address of your local work, home, or other computer.
Further Reading
Much more info can be found in the FoxyProxy Browser Extension Manual.