Manual Configuration For MacOS With OpenVPN
Your FoxyProxy accounts come with both VPN and proxy service.
These instructions explain how to connect to your VPN accounts using a method called OpenVPN. It is the best choice when you have many different locations with FoxyProxy because switching between them is easier than the IPSec VPN method or PPTP VPN method.
TunnelBlick is the name of the free, open-source MacOS software for FoxyProxy/OpenVPN connections. You must download and install it to connect to your VPN accounts.
Step 1: Download TunnelBlick from the tunnelblick.net website here (15.2 MB) or here if you cannot reach the first link.
a. This will download TunnelBlick to your computer. Click on it to start the installer.
b. After the package window opens, double-click the Tunnelblick.app icon to begin installation.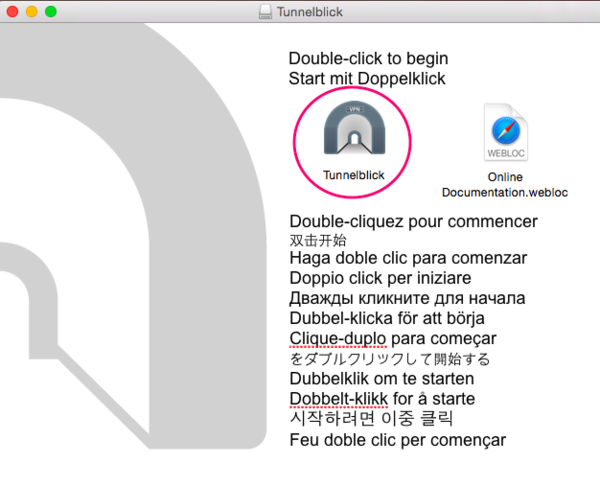 Step 2: Launch Tunnelblick
a. A dialog box warns you that the application was downloaded from the internet and requiring your approval to continue. Click Open.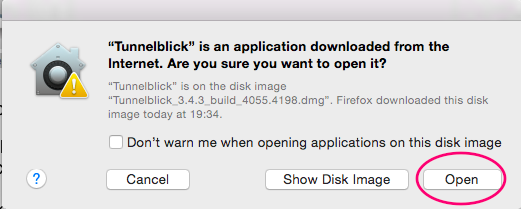 b. You are asked for approval of the installation by entering your Mac username and password. Type your username and password, and then click OK.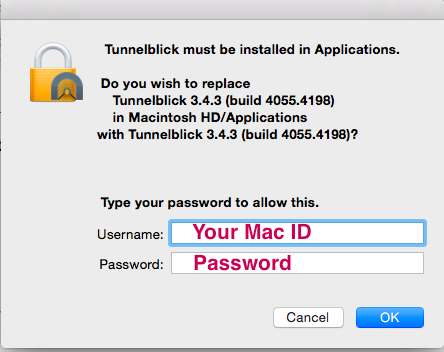 c. After installation finishes, you'll see a window asking you if you want to launch Tunnelblick. Click launch to start Tunnelblick.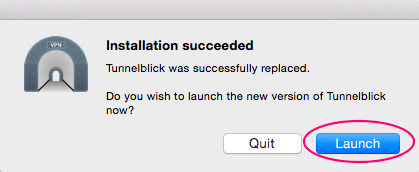 Step 3: I Have Configuration Files
a. A window that says "Welcome to Tunnelblick" appears. Click the "I have configuration files" button.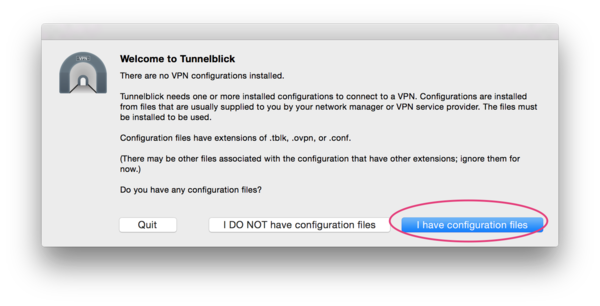 b. Click the "Done" button next.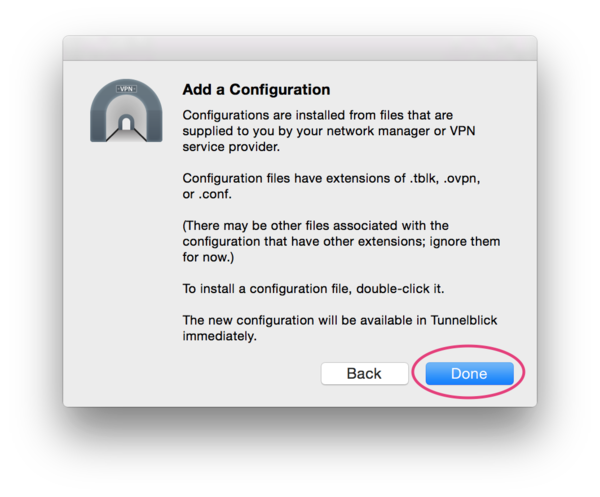 Step 4: Look for the Tunnelblick icon in the Mac status/menu bar. This the same location where you can see your username and the Spotlight icon.
Tunnelblick icon

a. Import the TunnelBlick/ovpn configuration files. If we did not email these files to you, please retrieve them from the FoxyProxy Control Panel, go to the Actions menu and download the OpenVPN configuration file for each of your locations. If you have many of them, click Download all Tunneblick/OpenVPN files as zip instead. If you have any trouble downloading the files, contact FoxyProxy Support and we'll be glad to email them to you.
Extract the zip file (if you downloaded the files as a zip). Then select all of the files (*.ovpn) in Finder and click Open.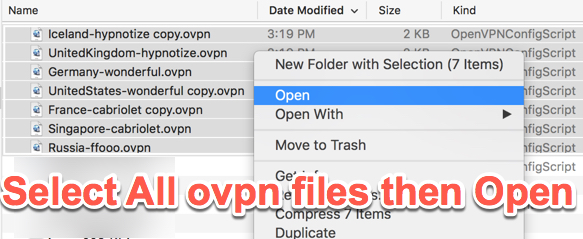 NOTE THAT IF YOU DOWNLOADED A SINGLE OVPN FILE (NOT THE ZIP FILE) USING SAFARI, THEN SAFARI CHANGED THE FILE EXTENSION FROM .OVPN TO .OVPN.TXT..
b. Next, select Apply To All (if you're importing more than one file) and Only Me.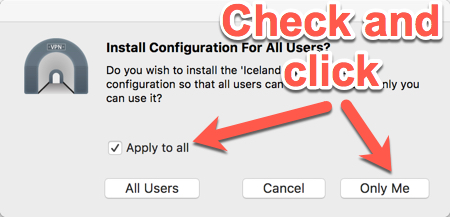 c. Enter your Mac OS X username/password to authorize installing the OpenVPN configurations.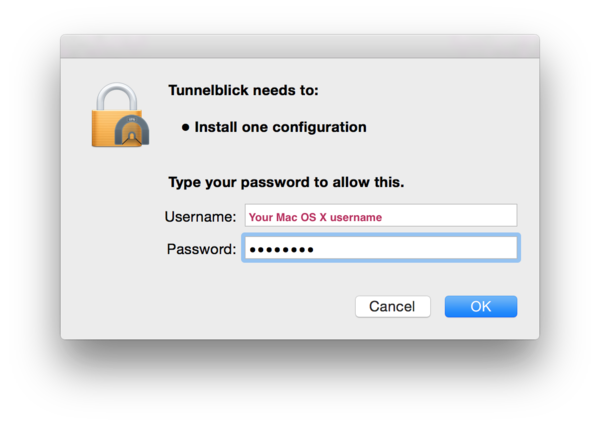 d. Click OK at the next window.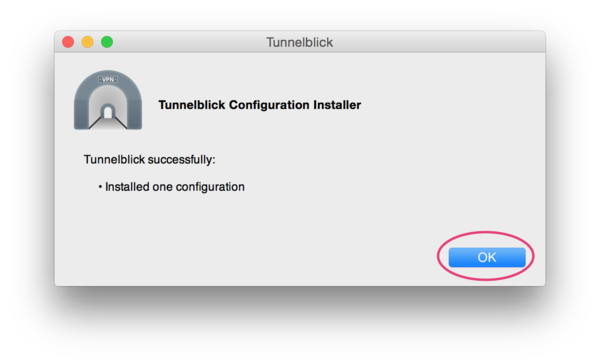 Step 6: Connect to OpenVPN
Click the TunneBlick icon in the status/menu area, then click "Connect" for one of your locations.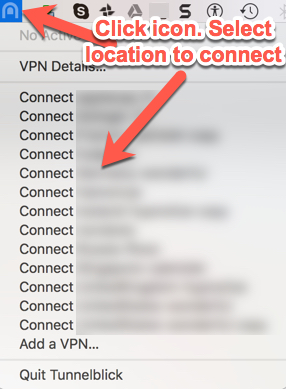 Next, enter username/password provided to you by FoxyProxy. Save the credentials so you're not prompted again.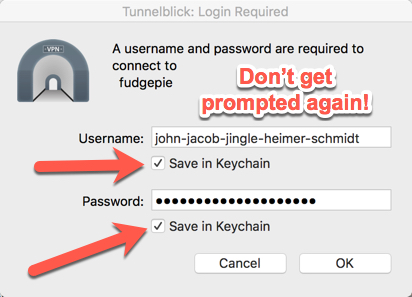 Finally, you will see a window in the status/menu area displaying connection status. The status should finish with Connected in GREEN. The connection can take up to 10-15 seconds to complete: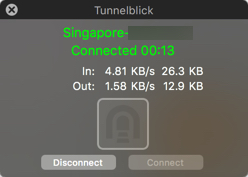 Confirm You're Connected
To confirm you're connected to the VPN, visit https://getfoxyproxy.org/geoip and ensure it shows a different location and IP address than you expect.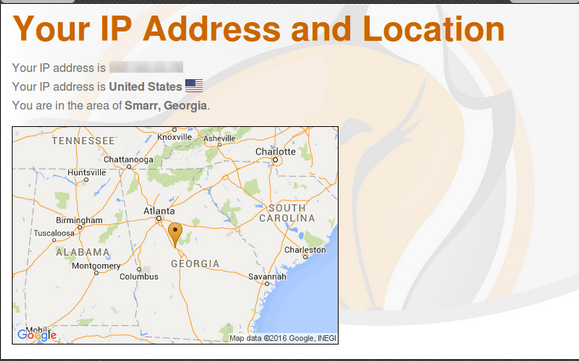 Disconnecting
Click Disconnect in the hovering green window: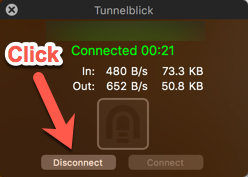 OR click the OpenVPN icon in the status/menu area and select Disconnect: