How To Use FoxyProxy VPN With a DD-WRT Router (OpenVPN)
In this guide, we will configure your DD-WRT router to use your FoxyProxy VPN account. These instructions are for the OpenVPN protocol. PPTP instructions are here. Don't know what this means? Use PPTP for easier configuration and setup. Use OpenVPN for improved security and privacy.
If you'd rather buy a router with DD-WRT or Tomato pre-configured for your FoxyProxy VPN/Proxy Account, we've partnered with FlashRouters to provide that.
Let's begin.
Step 1. Obtain the DD-WRT OpenVPN configuration script for your account in the FoxyProxy Control Panel here. After logging into the panel, click the Actions button then DD-WRT. You'll see this screen: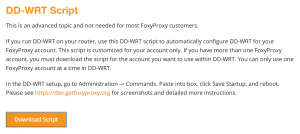 Click the Download Script button. This saves a file to your computer called dd-wrt-openvpn.sh.
Step 2. Login to your DD-WRT Router and click on "Administration"

Step 3. Click on "Commands"

Step 4. This loads the Command Shell that allows us to issue commands to the router. Open the configuration script mentioned earlier and copy the contents of the file and paste them into the commands text box:
Step 5. After pasting the contents of the script, click the "Save Startup" button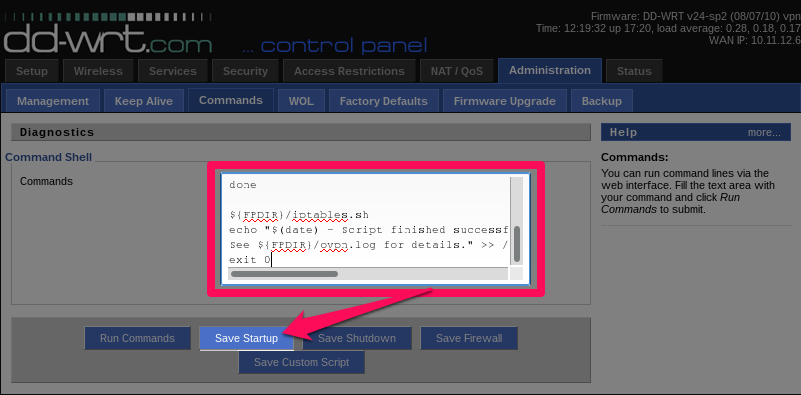 Finally, click "Reboot Router" to apply your new settings

To confirm that the new settings work, visit https://getfoxyproxy.org/geoip/ and ensure it says a different location and IP address than you expect.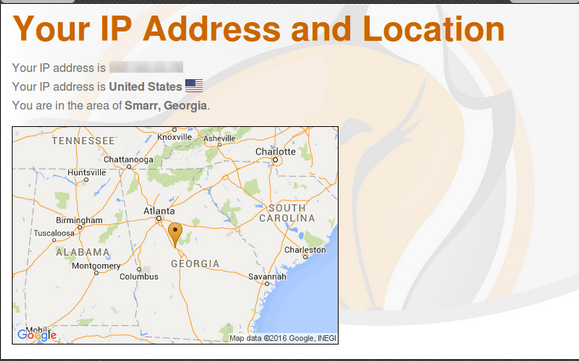 To disconnect from the VPN service,  clear the commands pasted into the Command Shell in step 5 and then click "Save Startup"