What to do when VPN is blocked? Accessing Blocked Websites from Iran, China, and Other Countries using SSL Proxy Server
What to do when VPN is blocked? Accessing Blocked Websites from Iran, China, and Other Countries using SSL Proxy Server
Some countries and ISPs block VPN internet traffic. If VPN is blocked for you, then you will not be able to connect to your FoxyProxy VPN at all, or you may experience very frequent disconnections from the VPN server. VPN blocks are usually based on "finger-printing" VPN traffic. When VPN traffic is recognized by its finger-print, the connection is blocked or disconnected.
These instructions show you another way to access blocked websites with your paid FoxyProxy account. The approach avoids VPN and instead uses SSL proxy servers.
Traffic between your computer and an SSL proxy server looks just like HTTPS traffic. Unless your country blocks all HTTPS traffic (unlikely), or they block all FoxyProxy IP addresses (unlikely since we are constantly acquiring new ones), you will be able to access blocked websites.
Please note: if the https://getfoxyproxy.org domain is blocked for you, you need to followthis extra step
Instructions for web browsers:
Google Chrome instructions:
Follow instructions how to install our extension Geoshift. When done please return to this page.
Click the checkbox on the top of GeoShift window to enable SSL Proxy Server.

Now, when you Turn On desired proxy server (see screenshot above) you can skip to step 8 down below to test if proxy works for you.
FireFox instructions:
Install Firefox
Install the FoxyProxy Addon for Firefox.

Click the FoxyProxy icon to the right of the location bar.

Create a new proxy setting by clicking the Add button
You should see this page:

Change Proxy Type to SSL.
Enter the DNS name provided when you purchased an account. It will be something like xxxx.getfoxyproxy.org
For port, enter 4443 if you purchased an account from us.
Enter the username provided when you purchased an account from us.
Enter the password provided when you purchased an account from us.
Finally, click Save.

Click the fox icon in the toolbar.
Change FoxyProxy to Use proxy xxxxxxx for all URLs (ignore patterns)

That's it! You can confirm it's working by visiting https://getfoxyproxy.org/geoip. You should see the IP address you entered in Step 6.
Turning It Off
When you want to turn off the proxy, click FoxyProxy in the Firefox toolbar and select Turn Off All Proxies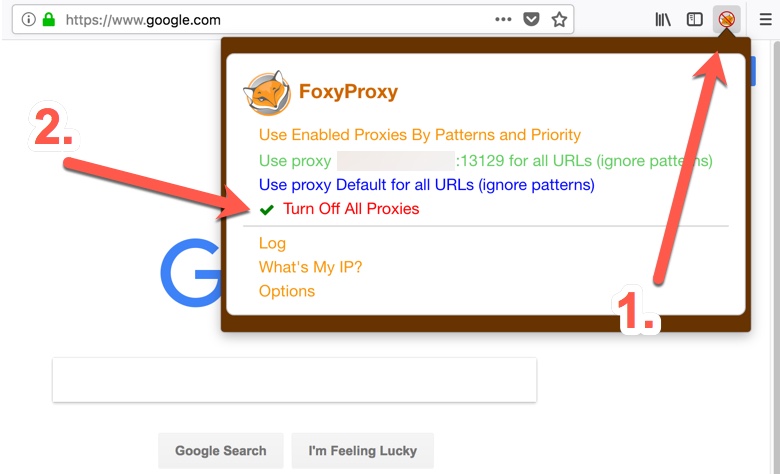 Note About Speed
Proxies can be slower than your direct (non-proxy) internet connection. To optimize your experience, consider using FoxyProxy in patterns mode. It allows you to define which websites load through proxy servers and which do not. You can also define patterns based on local IP address.