How to setup FoxyDNS on Mac OS
Setup
Here are instructions on how to setup FoxyDNS on MacOS.
1. Go to System Preferences. You can get to System Preferences by clicking on the Apple logo in the upper left.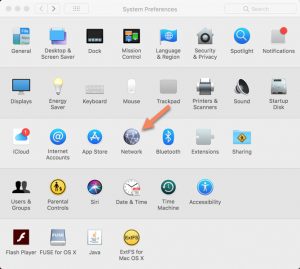 Then click the Network icon.
2.  You will see this screen: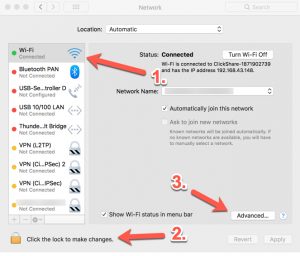 If you're connected via ethernet, click on the Ethernet item in the left sidebar. If you're connected over Wi-Fi, click on the Wi-Fi item, etc. (connected items will show up with a green dot to the left of their name – this one should be clicked).
Click the lock sign in the lower-left, after which you are asked to enter username and password of a user that has administrative rights on your computer.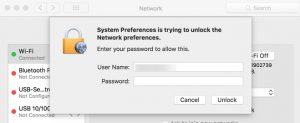 Finally, click the Advanced button.
3. In this new window, click the DNS tab. You will see one or more IP addresses in the left pane. Select each one and click the minus sign under the left pane to remove it. Then click the plus sign and type the IP address of the DNS server supplied by FoxyProxy. Finally, save by clicking the OK button at the bottom.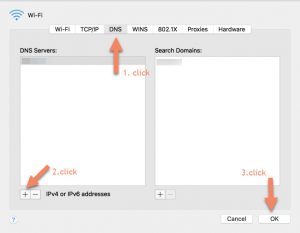 4. Reboot your computer. After the reboot, FoxyDNS is active. Simply visit the websites that were previously blocked.
Remove
Here are instructions to remove FoxyDNS on MacOS.
Follow the instructions above to step 3, but click the minus symbol instead of plus: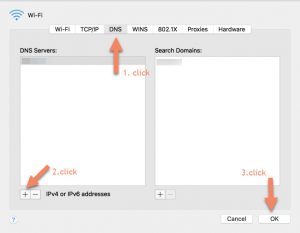 Remove the FoxyDNS entry and add DNS of your choice. For example, 8.8.8.8 is GoogleDNS.
Reboot your computer. After the reboot, FoxyDNS is deactived