How to setup FoxyDNS on Android
Here are instructions on how to setup FoxyDNS on Android in order to watch BBC iPlayer.
From the Android Menu home screen, tap Settings.
Tap Wi-Fi on the menu. The screen shown below appears, listing all of the networks your phone is able to discover.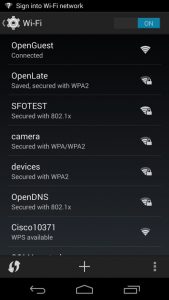 Long press the Network you're connected to, and tap Modify Network.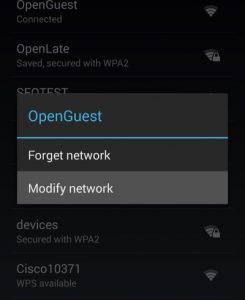 On some devices, you may need to check the box for "Advanced" to see further settings. To adjust your Android DNS settings, you will need to switch the IP settings from DHCP to Static. Once changed, the menu will appear with the DNS settings available to edit. Don't worry about the editing the IP address as the Android device will fill in the IP address it has acquired through DHCP. Add our FoxyDNS (45.76.140.108) under DNS 1.
DO NOT ENTER ANY OTHER DNS SERVERS HERE. ONLY THE ONES WE PROVIDED TO YOU.
Save your settings.
That's it! You've updated your Android device's DNS to FoxyDNS.
Reboot your Android device. After the reboot, FoxyDNS is active. Simply visit BBC iPlayer.