How to disable FoxyDNS on MacOS
Here are instructions for disabling FoxyDNS on MacOS.
1. Go to System Preferences. You can get to System Preferences by clicking on the Apple logo in the upper left.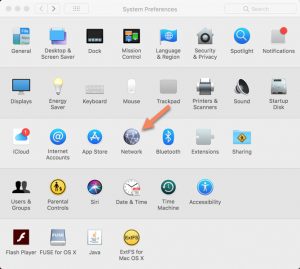 Then click the Network icon.
2.  You will see this screen: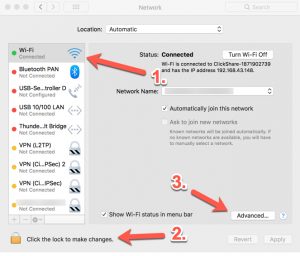 If you're connected via ethernet, click on the Ethernet item in the left sidebar. If you're connected over Wi-Fi, click on the Wi-Fi item, etc. (connected items will show up with a green dot to the left of their name – this one should be clicked).
Click the lock sign in the lower-left, after which you are asked to enter username and password of a user that has administrative rights on your computer.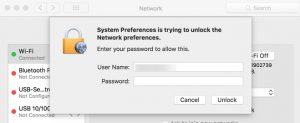 Finally, click the Advanced button.
3. In this new window, click the DNS tab.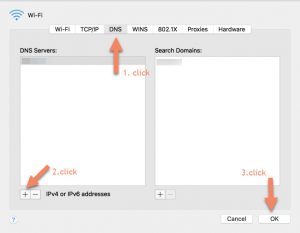 You will see 178.62.22.187 or 45.76.140.108 in the left pane. Select it and click the minus sign under the left pane to remove it. Then click the plus sign and enter the DNS server of your choice (some suggestion follow). If you cannot remove 178.62.22.187 or 45.76.140.108, then click on the first set of numbers (178. or 45.) and start typing with one of the following:
208.67.222.222 (OpenDNS)
8.8.8.8 (Google DNS)
4.2.2.1 (Level 3)
1.1.1.1 (CloudFlare)
Any of these choices will work well but OpenDNS may not track you.
Save by clicking the OK button at the bottom.
Reboot your computer. After the reboot, FoxyDNS is deactivated.